OK, here is the set list;
1. Raw power
2. Gimme danger
3.1970
4.Search and destroy
5. fun house/night theme
6.beyond the law
7. johanna
8.ready to die
9.I wanna be your dog
10. No fun
11.Passenger
12. I got a right
13. cock in my pocket
14.pretty face
15.sex and money
16. penetration
17.open up and bleed
18 burn
19 louie louie
So...the park was way smaller than you'd think, the stage even smaller (compared to Berlin anyway)
We had heard that there would be no stage invasion for fun house during the James Williamson key note speech
as we talked to the stage guy who was present , Josh, although he said you never know with Iggy...the stage was too small with too much "stuff" around.
We had VIP band so there was a space set aside at the right hand side of the stage, so we went in there to start...
They started as always with Raw Power, the sound was great where we were although at the very front it was overload on guitar and low on vocal according to the youtube video's....next gimme danger and then something went totally wrong with James guitar sound as they started 1970, Iggy stopped them and had a big meltdown...
https://www.youtube.com/watch?v=K7T4-0iE-sY
Absolutely crazy!
Just before this point we had jumped the barrier of the VIP section to get into the very special front area! No one really noticed, so we got very close...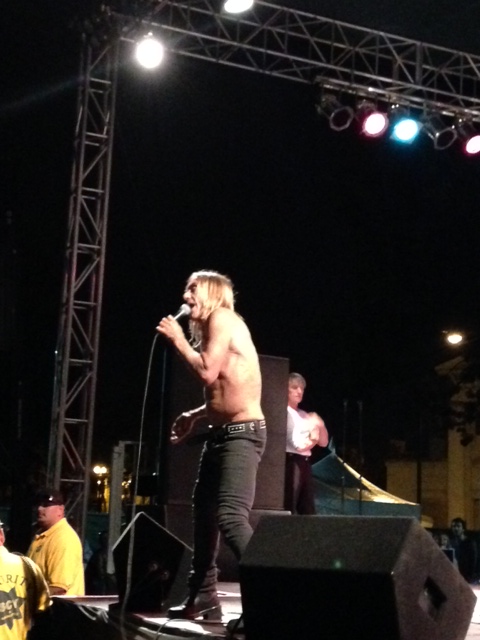 ..
This close..
Funhouse started and Iggy said that there could only be one person on stage and he picked out a girl (of course!) at the front row, she got up danced with Iggy....
One funny thing was another girl jumped the barrier near us but got spotted by the security and my friend just grabbed her and said "she's with us" !! Which was pretty funny as we were not supposed to be there anyway! And then she ran up on stage a little later, so we had hate looks all night from the security guy..
This is the third Stooges gig I have been too, honestly all have been great, this one was a lot of fun and the audience were right into it, Iggy had his jacket...
(to follow in one moment)