I found a cool blog the other day which has a couple of stories about Iggy in LA post the breakup of the Stooges in '74. He was living in the garage of a photographer called Jim Cassatta and the blog is by his daughter Sydney.
http://jimcassatta.blogspot.co.uk/
Here's the Iggy related posts & photos:
((1) Eric Wonderman was sitting in the living room, Iggy Pop knocked on the door and asked if dad had any vitamins. Dad said, yes, they are in the bathroom. Iggy Pop entered, found the bathroom, took the vitamins and asked if there was any beer. Dad said no, sorry, at this point in life he was no longer drinking. There was however a liquor store right across the street. So Iggy asked if dad had $1.35. Sadly, dad could not help here either. Iggy then turned to Eric and asked if he had the $1.35 for beer (it was only a dollar thirty five for beer! Crazy.) he didn't have it either. Iggy left. Dad looked at Eric in confusion, Eric asked if he knew who that was, dad said no. Eric informed him that it was, in fact, Iggy Pop and thus begins the whole sordid affair. Iggy and dad would be friends for a few years after and he is the person I have the most photos and goodies of. More to come!
He then took to living in the garage from, '74 to '75 I believe, before disappearing in 1976 with David Bowie to record The Idiot and, get their heads together.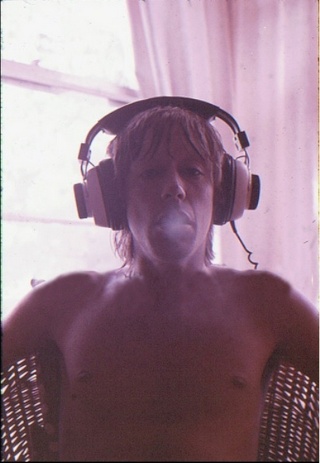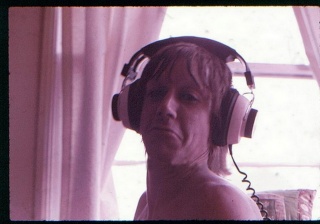 2) Dad was here when these were discovered, he actually gave the model releases to me quite a bit before that but for whatever reason it took me months to really examine them, and turn them over... SO! this is one of dad's model release forms for Iggy Pop: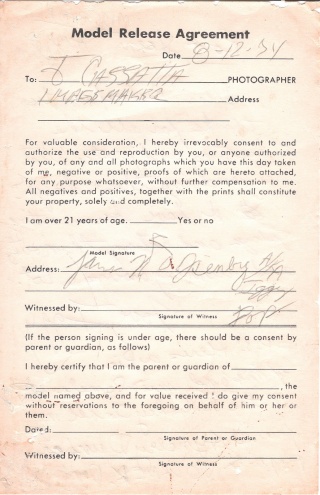 I have several of these and it never occurred to me to turn them over, and then one night I did and discovered this!: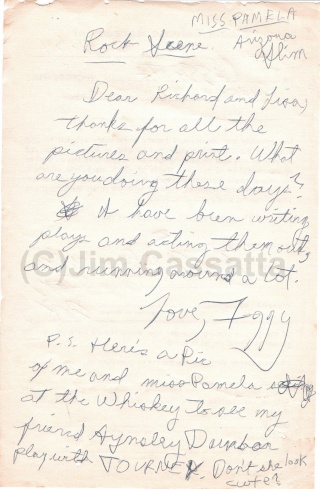 It's a letter titled "Rock Scene" (was sent to Rock Scene? Was it a magazine?), and in the upper right says: "Miss Pamela" and "Arizona Shim". It reads:
"Dear Richard and Lisa, thanks for all the pictures and print. What are you doing these days? I have been writing plays and acting them out, and running around a lot. Love Iggy
P.S. Here's a pic of me and Miss Pamela at the Whiskey to see my friend Aynsley Dunbar play with Journey. Don't she look cute?"

Isn't this amazing?! I was blown away! How great to find out that not only did Iggy write to people, he included pictures! He just went up a cool notch (as if it was even possible for him to be more cool). I do not have a picture of Iggy and Miss Pamela, so maybe this was a practice letter and he sent the real one with the picture? He must of course mean the fabulous groupie deluxe Pamela Des Barres when he says "Miss Pamela".
Mad flipping of all the other model releases ensued and we then came across this!: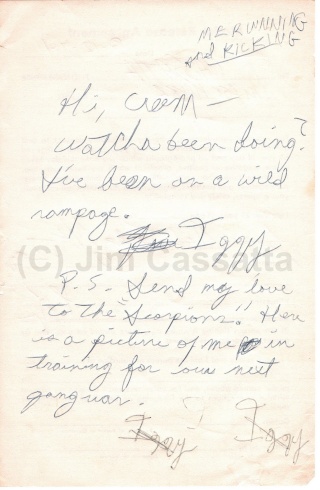 The top says: "Me running and Kicking" and reads:
"
Hi Creem -
Whatcha been doing? I've been on a wild rampage.
Iggy
P.S. send my love to the "Scorpions." Here is a picture of me in training for our next gang war. Iggy (it's scratched out) Iggy (scratched out again)"
So this one is for Creem Magazine, I think it's funny that he asks what it's been up to. Unless it says Carm?...  I also do not have a copy of this photo. It's a shame too cause I'm dying to see it, Iggy, training for a street fight! Hot. (Yes, I just said hot, yes I realize no one has said hot since Paris Hilton all the way back in 2008. But, I mean it literally, not in the bored passive way she did). This one is also dated August 12, 1974.  So, another great find! I love these! I love that Iggy Pop wrote people. This is getting to be pretty interesting.))
It's a shame that Sydney stopped posting on the blog as it sounds like she has more Iggy stuff.  I tried contacting her but no response.